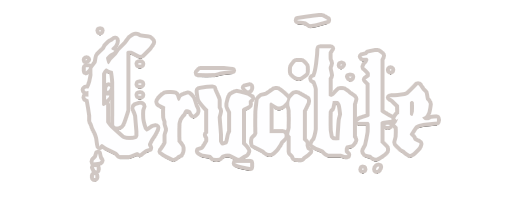 Silent, unyielding and relentless, Crucible follows orders without any deviation. He can be a welcome sight, or your greatest fear.
Crucible is a mystery. It is a servant of the Order, the same order that God's Fire serves, but it is only held accountable to its Grand leader. It is unclear whether or not it even speaks or if there is a human body under the armor. All that is known is that it has superhuman strength, stamina and is unyielding. Most view it as a weapon. 
The Believer is cautious of Crucible. He has seen it in action and it reminds him more of the monsters he hunts than the virtuous savior the Order would like everyone to believe. Keeping himself and his men a safe distance from Crucible has been the Believers practice, however Crucible seems to be treading closer and closer to the actions of God's Fire recently.
This is particularly alarming to the Believer, since he knows that Crucible doesn't do anything he hasn't been ordered to do, and the only person who gives Crucible orders is the Grand Leader himself. The Believer would like to know what the Grand Leader's sudden interest is in God's Fire, and why does Crucible seem to be following them?